Aarhus World Championships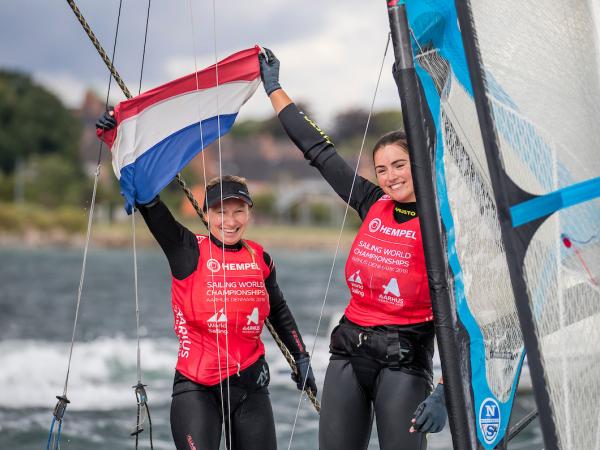 Annemiek Bekkering and Annette Deutz won a dramatic 49erFX medal race at the Hempel Sailing World Championships Aarhus 2018 on Saturday after Austria pair of Tanja Frank and Lorena Abicht capsized in a huge wind shift.
The 49erFX was an unexpected third gold for the Netherlands – they have already won both the men's and women's RS:X before the medal races - who are leading the World Championships medal table. Crown Prince Frederik of Denmark, the patron of the event and himself a keen sailor, chose the most dramatic day to visit and was on hand to give out the medals.
Denmark's Bay of Aarhus has tested all its champions in the last week but perhaps saved the biggest challenge for the 49erFX and not for the first time these flying skiffs have seen an upset, again literally.
"We still can't believe what just happened, it feels strange, but we are so happy," Deutz said after they finally got to land – they saved their capsize for after they crossed the finish line. They have never won a world championship medal and were seventh in the Rio 2016 Olympic Games.
Frank and Abicht had started the medal race 11 points clear of Britain's Sophie Weguilen and Sophie Ainsworth and 14 ahead of the Dutch in third place. The equation was simple: the Austrians only needed to finish sixth or better to be guaranteed gold.
If Frank and Abicht were slightly slow out of the blocks they soon blasted their way through to round the top mark 40 seconds ahead of all their rivals for gold. They held that downwind but the whole race was upturned on the second beat.
The forecast low-pressure system came rolling over early a little early. The thousands of spectators on the harbour promenade could see the dark cloud and wind line moving rapidly across the water. The Dutch were one of three crews in the 10-boat field that spotted how to exploit, heading to the right of the course as a massive shift of over 40 degrees and wind speed leap from 6 to 18 knots swept across them.
"There were light winds in front of us and we decided to tack out and that's when we noticed that the wind was building up," Bekkering said. "After 20 seconds we saw so much pressure coming, so we decided to take the risk and stay away from the fleet. In the end, we didn't know that the shift was so big, but it paid out big time.
"We've been saying together for five years. We won in Palma this year and now the World Championships – this is our year."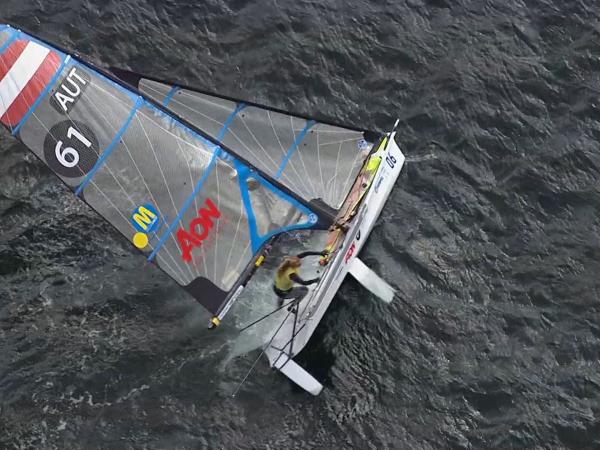 The change was so great that the Dutch sailed 200-300 metres less than the boats on the left over the 1km beat. The Austrians could have absorbed that, but not a capsize. They went from first to last and ran out of track to fight back as the skiffs completed the last "downwind" without their spinnakers up, so severe was the shift.
"On the second upwind, there was a 180-degree shift hit us so hard that we capsized immediately," Abicht said. "We were quite quick in getting back up and into the game but we lost eight boats."
Weguelin and Ainsworth finished sixth to take bronze. The Rio 2016 Olympic champions, Martina Soffiatti Grael and Kahena Kunze, finished third in the race to take fourth overall. Grael's disappointment will have been softened by the fact that she has only had 20 days of training after coming back from a year in the Volvo Ocean Race.
In the 49er medal race, 40 minutes before, the men had enjoyed steady 11-13 knot southerlies and the Croatian brothers, Šime & Mihovil Fantela made sure there were no surprises for the gold - the battle for silver was another matter entirely - as they controlled their opponents from start to finish.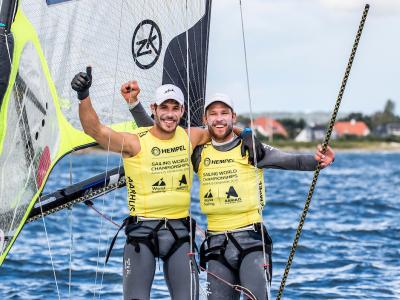 "It's been an amazing last year sailing with my brother," Šime said. "It's been a challenge some days coming from the 470, so winning the World Championships is beyond my dreams."
The Fantelas went into their medal race 13 points clear of the young German pair, Tim Fischer and Fabian Graf, in second. Erik Heil and Thomas Ploessel, the bronze medallists in Rio were third, 18 points behind. France's Mathieu Frei and Noe Delpech in fourth were nine points further back. If bronze for the French looked tough, silver looked like a real stretch.
The first upwind was predictable. The Croatians shepherded both German crews all the way up and rounded the top mark fractionally ahead of both. Thereafter they did not have to worry as the German challenge went backwards fast as they took bigger and bigger risks to get back into contention. They finished a long way off the pace in ninth and tenth place respectively as the Frei and Delpech, in the lead group from the start, surged to front at the end of the final downwind to guarantee silver.
France have specialised in ambushes at these World Championships, having won the men's 470 after starting a long way behind in bronze.
For the Fantelas this has been a fairytale start to the beginning of their new partnership. They have only been sailing the 49er together for 18 months and were eighth at the Test Event in Aarhus a year ago. 
Šime, 32, has switched from an illustrious career in the men's 470 - where he won two class world championships and the gold at the Rio 2016 Olympics – to partner his younger brother Mihovil, 28, an ex-windsurfer. Their form in 2018 did not point to gold here, but they have dominated the fleet.
"Our goal since I changed class was a medal in Tokyo (2020 Olympics)," Šime said. "We know how many more hours in the boat we have to spend - our boat name is "ten thousand", which is a symbolic name for how many hours we need to spend in the boat if we want to win a medal because. I've been there once and I know how much hard work it takes to have even a chance to shoot for a medal."
And for them being brothers has only been a help.
"Šime asked me if we could sail together in the 49er and we thought we would trial it for a bit," Mihovil said. "It worked so well, and we make a good team."
Šime agreed, "Probably we can say more to each other than the guys who are not so close, and of course later we can discuss it more easily than some other crews that have some borders."
Gusts over 30 knots and thunder and lightning meant that the medal races for the men's and women's kiteboard – making their debut at the World Championships – was abandoned before starting. That brought three more medals for France. The men's kite had promised to be tight with the top seven separated by 21 points, with 30 points up for grabs in the three medal race format.
Nicolas Parlier and Theo de Ramecourt took gold and bronze for France respectively, Britain's Guy Bridge took silver.
The women's kite had been clearer with the USA's Daniela Moroz leading Russia's Elena Kalinina by 13 points. France's Alexia Francelli (14 points further back) took bronze.
The Nacra 17, and RS:X Men and Women will have their medal races tomorrow. You'll be able to watch the races live here - aarhus2018.sailing.org/watch
They said:
Tanja Frank and Lorena Abicht – Austria – 49erFX (silver)
Abicht: "It was a frustrating moment for us and even more challenging trying to find our focus again. We were disappointed at that moment because we had the thought of winning the Championships, but we are so happy with silver. We've only been sailing in the FX for two years and we already have the World Championship silver medal."
Frank: "That's the sport, and we are going to have another chance, and next time we will be better."
Abicht: "This is our first medal in a World Championships, so we are happy with our result."
Sophie Weguilen and Sophie Ainsworth – Great Britain – 49erFX (bronze)
Ainsworth: "It's been very hard for us and coming away with a medal is a blessing. We are so happy, especially after those challenging conditions.
"We remained consistent during the week and climbed our way up. The medal race went well for us and we've won bronze. We've been following our set processes like getting to that boat park at a certain time and practicing a certain way, and that was the key for our consistency."
Mathieu Frei and Noe Delpech – France – 49er (silver)
Frei: "We don't know what happened, we just tried to sail as well as could. We understood the wind shifts well and decided to take the right shift.
"We managed to take the lead on the last downwind, with a nice jibe in the middle of the last downwind.
"We had to keep things simple because they were four or five boats fighting for the bronze and silver medal. Our decision was to take the right side, as a classic race.
We are very happy but it's going to hit us in a few hours once we call our families."  
Tim Fischer and Fabian Graf – Germany – 49er (bronze)
Fischer: "We took the wrong side of the course and quickly realised that we'd lose some places. We did our best to climb back up. Even though that was the case we are so happy to get a podium spot at the World Championships. 
I recently had an injury on my ankle, and we were out for two months. From March to May, and it was hard to get back into things."
Graf: "The week was almost perfect for us. We are on the podium and we are happy with that."
Nicolas Parlier – France – Men's Kiteboard (Gold)
"It feels awesome! This is great for the sport and it only shows a positive journey to the 2024 Olympics."
"I'm happy with my performance in this competition, even with these difficult conditions. It hasn't been easy this year, I've been studying and haven't been focusing on my training as much. The top 10 points were so close and there was no room for mistakes." 
"There is a good future for kiting, and with more and more riders competing, it's also going to get harder to stay at the top."
Daniela Moroz – USA – Women's Kiteboard (Gold)
"I'm so stoked! All the hard work has paid off. It's been a great year thanks to my parents, friends and all those who supported me."
"Competing in a championship like this is feels different. Winning here feels more significant and I think that is because we have all these other classes here too."
By Matthew Pryor