Aarhus World Championships
The best of best in the 49er, 49erFX and Nacra 17 class have touched down in their masses for the Hempel Sailing World Championships Aarhus 2018.
Some of the most athletic competitors will race across the three fleets and there will be no room for error in any of the fleets with the stakes high.  
As the primary Tokyo 2020 Olympic qualification event, teams have flocked in their masses to Denmark to attempt to grab a national spot at the first opportunity.
One hundred and twenty six sailors making up 63 teams, representing 26 nations, will battle for eight Tokyo Olympic spots in the 49erFX fleet.
The 49erFX will be one of the most highly competitive fleets competing in Aarhus with the full Rio 2016 podium, top competitors of recent times, World Champions and Volvo Ocean Race sailors on the start line.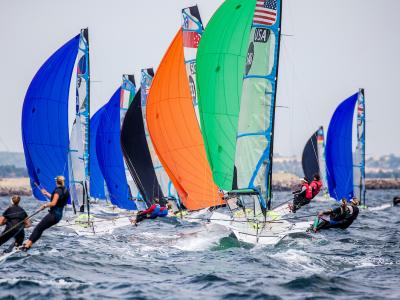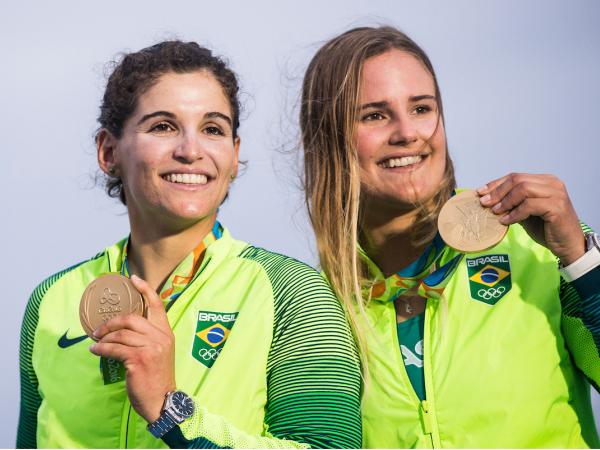 Rio 2016 gold medallists, Martine Grael and Kahena Kunze (BRA) will be reunited in Aarhus, competing in the 49erFX after an extended break as Grael competed in the Volvo Ocean Race. The pair were crowned champions in every single round of the 2017 World Cup Series, not to forget… they won the last combined World Championships in Santander, Spain in 2014.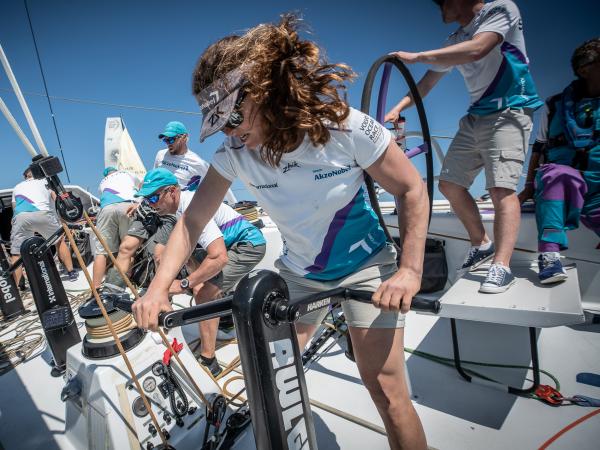 Grael took a year out to join Team AkzoNobel as a Helmsman and Sail trimmer, racing in the Volvo Ocean Race – a round-the-world yacht race, held every three years.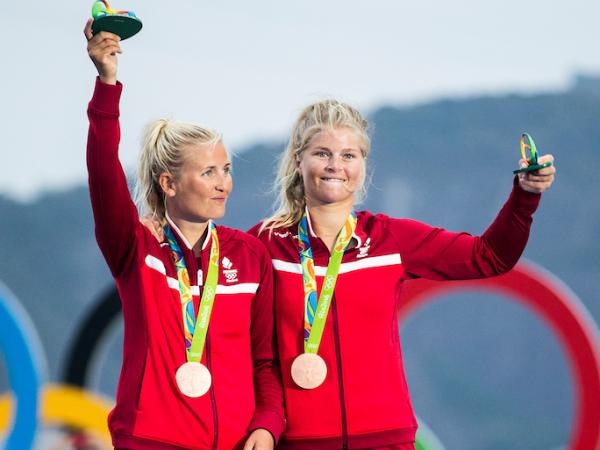 Jena Mai Hansen (DEN), sailing with Katja Salskov-Iversen, also took a year out to compete in the Volvo Ocean Race, joining Vestas 11th Hour Racing as a crew member.
The Danish FX sailors won bronze in Rio 2016 and also at the last 49er & 49erFX World Championships, in Matosinhos, Portugal.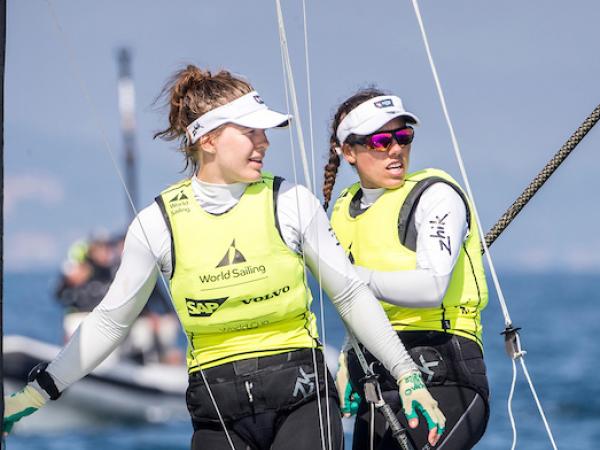 However, while they were busy, their compatriots, Ida Marie Baad Nielsen and Marie Thusgaard Olsen began carving their names at the top of the pack, winning silver in Round 2 of the 2018 World Cup Series in Hyères, France.
Both Danish teams will go head-to-head on homeland waters.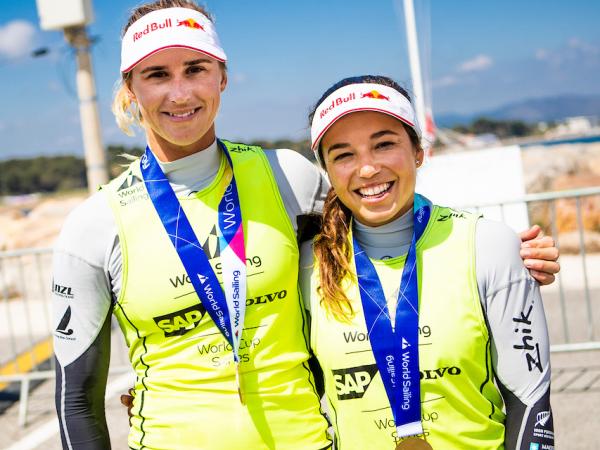 Alex Maloney and Molly Meech (NZL), Rio 2016 silver medallists, will be looking to take a podium spot at the Aarhus Worlds. The Kiwi FX girls won gold in Round 3 of the 2018 World Cup Series and silver in the 49th Trofeo S.A.R Princesa Sofia.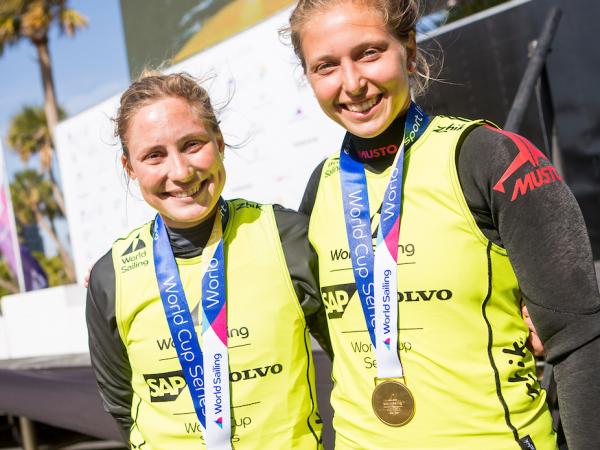 Germany's Victoria Jurczok and Anika Lorenz are rising stars in the 49erFX class after they secured gold in Round 2 of the 2018 World Cup Series in Miami. Jurczok and Lorenz sailed well in Miami and proved that they perform well in a large fleet, which makes this event a perfect playing field for them.
Current #1 World Ranked sailors, Victoria Travascio and Maria Branz (ARG) will also be in Aarhus.
The 49er class will be made up of 178 sailors, representing 33 nations, totalling 89 teams. Eight teams will be able to qualify their nation to compete in the Tokyo 2020 Olympic Games.
Five Olympic medallists join the 49er fleet, counting Iain Jensen (AUS), Erik Heil and Thomas Plößel (GER), Jonas Warrer (DEN) and Sime Fantela (CRO).
Throughout 2018 there have been many twists and turns in the 49er fleet. Large fleets have made for close racing, meaning one mistake can cost a lot, and that is exactly what teams will be aiming to avoid in Aarhus.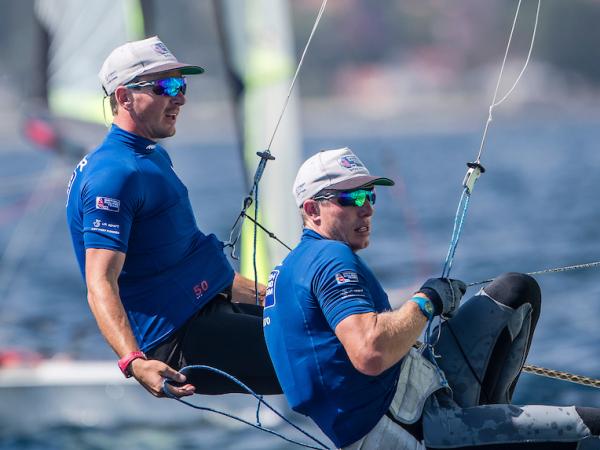 Dylan Fletcher-Scott and Stuart Bithell (GBR) have been ruling the 49er fleet recently, scoring gold in Round 1 of the 2018 World Cup Series in Gamagori, Japan, and Round 2, in Miami, USA as well as silver in the 49th Trofeo S.A.R Princesa Sofia, held in Palma, Spain. The duo is currently #1 in the World Sailing Rankings and have shown their determination for Tokyo 2020.
The Polish 49er sailors, Lukasz Przybytek & Pawel Kolodzinski are risers amongst the fleet and have the experience to make a breakthrough against the best.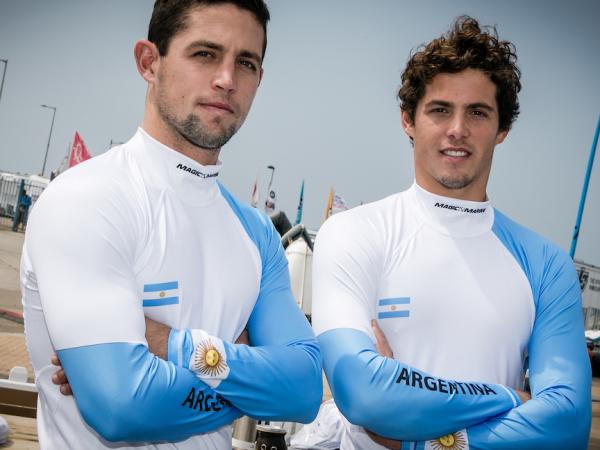 The Lange brothers, Yago and Klaus Lange (ARG) are competing in Aarhus. The young pair were crowned 49er champions of the 49th Trofeo S.A.R Princesa Sofia in Palma, Spain.
They are the sons of the multi-Olympic medallist and cancer survivor, Santiago Lange.
Another family team competing in the 49er is, Sime and Mihovil Fantela (CRO). Sime won gold in Rio 2016 Olympic Games, sailing in the 470, but he teamed up with his brother and is now sailing the 49er. 
In the foiling Nacra 17 class, there will be 68 teams, made up of 136 sailors, from 26 nations competing in the Worlds. Eight Olympic spots will be available for the Mixed Multihull.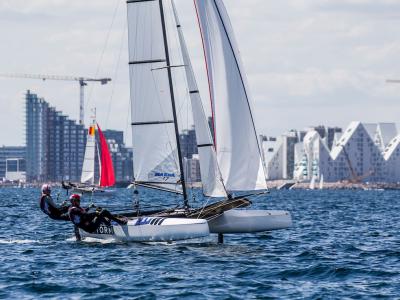 Five Rio 2016 Olympic medallist will be competing in Aarhus, including Santiago Lange and Cecilia Carranza Saroli (ARG), Jason Waterhouse and Lisa Darmanin (NZL) and Thomas Zajac (AUT).
The Italians have been ruling the Nacra 17 fleet since it went foiling and they've mastered it very well.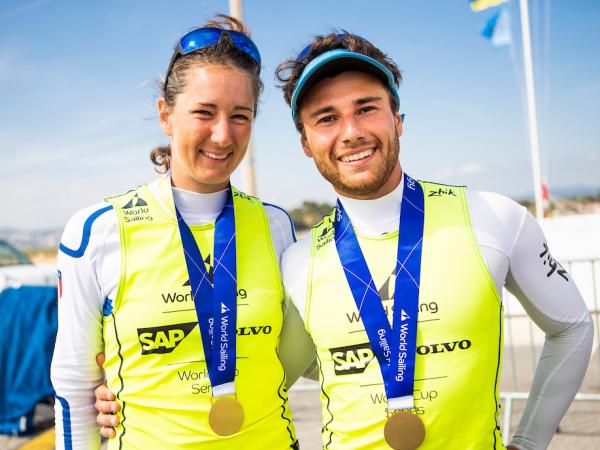 Ruggero Tita and Caterina Marianna Banti (ITA) were crowned Nacra 17 champions at the 49th Trofeo S.A.R Princesa Sofia and Round 3 of the 2018 World Cup Series. They also arrive in Aarhus fresh from winning the 2018 World Cup Series Final is Marseille, France.
The team has made huge gains in the Nacra 17 since it went foiling and this has rubbed off the remaining Italian team, especially the youthful team of Gianluigi Ugolini and Maria Giubilei – read more about the foiling young guns here.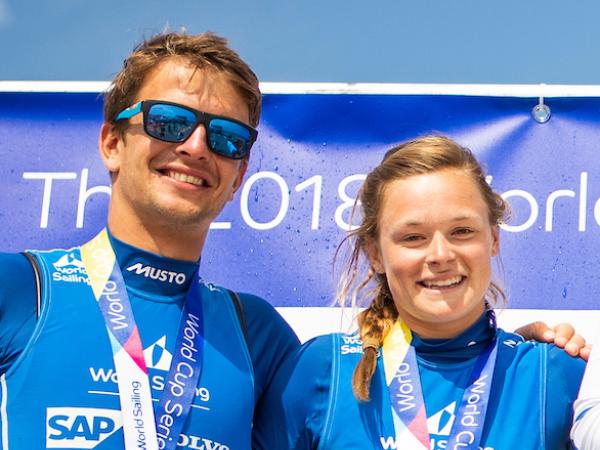 Ben Saxton and Nicola Boniface (GBR) have been very consistent throughout recent competitions, snapping silver in the 49th Trofeo S.A.R Princesa Sofia, and in Round 3 of the 2018 World Cup Series in Hyères.
There are plenty of top teams in the Nacra fleet, including; Thomas Zajac & Barbara Matz (AUT), John Gimson & Anna Burnet (GBR), Fernando Echávarri Erasun & Tara Pacheco (ESP) and plenty of others. With such a competitive fleet, every decision must be executed with perfection otherwise you'll find yourself at the back of the pack.
How to Follow:
ENTRIES
RESULTS
WATCH
SAP SAILING ANALYTICS
SOCIAL MEDIA
NEWS
LIVE ALERTS
ABOUT THE HEMPEL SAILING WORLD CHAMPIONSHIPS AARHUS 2018
Held every four years, the Sailing World Championships is one of the biggest global sailing events in the world and the principal qualification event for the Tokyo 2020 Olympic Sailing Competition.
Hempel Sailing World Championships Aarhus Denmark 2018 will include all 10 Olympic boat classes. Kiteboarding will be added to the programme for the first time. The ambition is to make the championships in Aarhus a unique and spectacular event, where sailing is made more popular and accessible than ever before.
The Championships will be held from 30 July to 12 August 2018 and 1,400 sailors from up to 85 nations will race in up to 1,000 boats.
Held simultaneously with the Sailing World Championships in Aarhus, a large festival will provide opportunities visiting families to get out on the water. The event expects to draw 400,000 visitors to Aarhus.