Aarhus World Championships
Zofia Noceti-Klepacka started the day skateboarding with her children and finished it with a masterclass in high-speed windsurfing on Super Sunday at the Hempel Sailing World Championships Aarhus 2018. 
 
In a World Championships full of mothers, the RS:X fleet is particularly blessed and Noceti-Klepacka has been at the vanguard of making less exceptional what was once seen as impossible in more antediluvian times.  One day it will be so normal no one will write about it. 
 
At least six of the 64 women windsurfers competing are mothers: Noceti-Klepacka, Blanca Manchon (Spain), Marina Alabau Neira (Spain), Tuuli Petäjä-Sirén (Finland), Charline Picon (France) and Bryony Shaw (Great Britain). Shaw, 35 carried her 14-month old son, Jaddek, in front of her as the flagbearer in the opening ceremony last Thursday. She has cited the way Jessica Ennis-Hill came back from having a child to take silver at the Rio 2016 Olympic Games as her inspiration.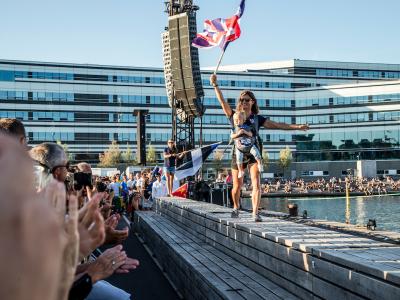 Serena Williams is the latest high-profile sportsmum. But there are great examples are closer to home. Noceti-Klepacka, 32, had her son Mariano, 8, before the London 2012 Olympics and then went on to take the bronze medal. She is in Aarhus with her husband Michael and Mariano and her five-year-old daughter, Maria. 
 
"They are staying here with me because it's summer and they have a break from school," she said. "I'm really happy and more relaxed when family is with me in competition and they support me. They are my fans and they always believe I can be the best.
 
"It was very hard to come back after my second baby, I needed to work very hard to get my body back and to be fully ready on the water. It took like one year If you want to come back and be a professional athlete my kids are not the problem. They give me motivation and energy. This morning we were watching how the men (windsurfers) sailed and I went skateboarding with them, and my daughter had her roller-skates."
 
It also means the discussions about gear have broadened for the fleet. "Of course we (the mothers) talk about it," she said. "Tuuli is here breastfeeding her daughter, who is nine weeks old. I spoke with her and told her about a special belt that I used to help carry my daughter and how it helped me a lot."
 
With the prevailing offshore westerlies continuing to build over 20 knots,  gusting 30 on the furthest courses out in the Bay of Aarhus. It was a good day to go flying and the kind of conditions in which Noceti-Klepacka, who trains in similar conditions on the Zegrze Reservoir just north of Warsaw, lights up. After three races today she was third overall. 
 
"There was more wind with every hour," she said. "Today was perfect conditions for the sailors, especially for me, I like planing conditions. In the third race, I had a crash. It wasn't my fault and there's a protest and I hope the jury will give me a redress because my sail went in the water and I lost a lot of time. But I'm happy, I wish it could be like this everyday. It's shifty conditions and I grew up on a lake and I enjoy it."
 
She would have been even less happy when news came through later that Principal Race Officer had abandoned the second race (because a mark was out of position), where she finished fourth. 
 
Leaderboards 
 
Men's RS:X windsurfing
Some of the usual suspects dominated day one of the men's RS:X with France's Louis Giard continuing his dominant 2018 form to top the leaderboard. But two more familiar Flying Dutchmen are breathing down his neck. Kiran Badloe won his last race to take the yellow bib from his friend and the king he would depose – double Olympic champion, Dorian van Rijsselberghe. The surprise was Italy's Daniele Benedetti in second after just two months training following eight months out with a knee injury. And China's class world champion, Bing Ye, was lying 73rd overall after finishing 34th, 34th and 33rd. A Chinese men's team that had been so dominant in Enoshima, Japan was dispersed on the winds. 
 
Men's Kiteboarding
A momentous World Championship debut saw France's Nicolas Parlier underlined exactly why he is the red-hot favourite by winning all six of his races. His compatriot, Theo de Ramecourt was almost as dominant in the second fleet. 
 
Women's Kiteboarding 
Likewise, USA's Daniel Moroz showed why she is the red-hot favourite in the women's kite by winning the last two of her three races. She will have been furious to finish second in her first one. 
 
Nacra 17 
Italy's Ruggero Tita and Caterina Marianna Banti underlined the pre-boat park consensus that "there are the Italians and everybody else" by winning all three of their races in choppy conditions that were too hot for handle for many in the fleet. 
 
49er
Yesterday, it was one New Zealand crew ahead of two French ones, it is now the reverse. Two third places took France's Lucas Rual and Emile Amorol top of the leaderboard, ahead of the two New Zealand crews in this huge 86-boat class with three fleets. But two powerful crews have moved ominously onto their shoulders, Croatia's Sime Fantela (Rio 2016 Olympic champion in the 470) and his brother, Mihovil Fantela, and Australia's William Phillips and Iain "Goobs" Jensen (Olympic gold medallist in 2012 and silver medallist in 2016 with Nathan Outteridge) who is standing in for Phillips's injured brother Sam. 
49er FX
Local favourites Ida Marie Baad Nielsen and Marie Thusgaard Olsen, who have grown up racing in the Bay of Aarhus and cheered the return of the westerlies as other quivered, moved to the top of the leaderboard with a solid third and fourth. Great Britain's Charlotte Dobson and Saskia Tidey had a second place and a win to move into second overall with the Olympic and Volvo legends all hovering on their shoulders. 
Laser
Despite a thirteenth and fourth place, New Zealander Sam Meech (bronze in the Rio 2016 medallist), stays top but the field of Olympic and world champions is now bunched much more closely behind him. 
 
Laser Radial
Two second places from Anne-Marie Rindom saw Denmark claim another top spot. The surprise is that Netherland's Olympic champion, Marit Bouwmeester is still back in ninth after a 16th place in her first race of the day. 
 
Finn, Men's 470s, Women's 470 were on a lay-day and will recommence in gold and silver fleets tomorrow. 
By Matthew Pryor
How to Follow:
ENTRIES
RESULTS
WATCH
SAP SAILING ANALYTICS
SOCIAL MEDIA
NEWS
LIVE ALERTS
ABOUT THE HEMPEL SAILING WORLD CHAMPIONSHIPS AARHUS 2018
Held every four years, the Sailing World Championships is one of the biggest global sailing events in the world and the principal qualification event for the Tokyo 2020 Olympic Sailing Competition.
Hempel Sailing World Championships Aarhus Denmark 2018 will include all 10 Olympic boat classes. Kiteboarding will be added to the programme for the first time. The ambition is to make the championships in Aarhus a unique and spectacular event, where sailing is made more popular and accessible than ever before.
The Championships will be held from 30 July to 12 August 2018 and 1,400 sailors from up to 85 nations will race in up to 1,000 boats.
Held simultaneously with the Sailing World Championships in Aarhus, a large festival will provide opportunities visiting families to get out on the water. The event expects to draw 400,000 visitors to Aarhus.