Aarhus World Championships
The Hempel Sailing World Championships Aarhus 2018 has its first medal race fleet in the women's 470 with Japan's duo of Ai Kondo Yoshida and Miho Yoshioka leading by five points.
Yoshida and Yoshioka, fifth in the Rio 2016 Olympics, were sixth in the only race possible on Tuesday. France's Camille Lecointre and Aloise Retornaz, bronze medallists in Rio, won to close in second place. But Hannah Mills, the Rio Olympic champion and her new crew, Eilidh McIntyre, were furious after finishing 18th – their worst of the series.
"Are we feeling confident? Yes, of course, we're here and still leading," Yoshida said. "The French were first, but we're happy with sixth in the circumstances."
For Mills, however, "today was absolutely ridiculous. The wind came in at 5-7 knots and was pretty steady, probably the steadiest we've had in Aarhus.
"We were out on the water for about 3-4 hours without any racing. We did a few starts and got postponed a lot. The wind was shifting like 10 degrees. I just feel very frustrated."
The World Championships in Denmark is coming to the business end of the week and the fields are beginning to narrow toward the medal race. Four more fleets, the Finn, the men's and women's 470s, Laser and Laser Radial medal race fleets could be decided tomorrow – wind permitting.
After Big Monday stalled, Tense Tuesday at least saw plenty of racing and left some big names with bigger scores. Some fleets were on the water for six hours, starting, stopping and pressing in shifting pressure in the Bay of Aarhus.
But the top tens are still full of familiar names and after nine races in all conditions in the men's 470, the Swedish 2018 European Champions, Anton Dahlberg and Frederik Bergström held their lead over the French and extended against Australia's Mat Belcher and William Ryan, the silver medallists at the Rio 2016 Olympics. They will try to complete one more race tomorrow on the reserve day before the medal race on Thursday.
The forecast stable 8-10 easterlies did not materialise and all the fleets had to pick and roll their way through soft patches. "It was race all the way across the finish line today," Bergström said. "There were a lot of things happening during the race, a lot of overtakes and big losses for some people, turnarounds in the fleet, which is brilliant racing."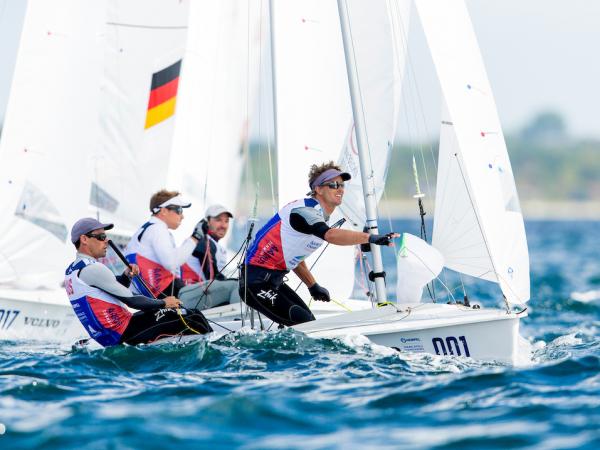 Belcher, 35, won gold at the London 2012 Olympics, and with Simon Fantela, the 2016 Olympic champion having switched the 49er, his boat, as has been the case for almost a decade, is the one to beat.
The Swedes have emerged from the pack this year and look capable of taking the crown. But they have never won a world championship and missed out in the class worlds a year ago after leading Belcher and Ryan by a point going into the medal race. Do they think it is easier to become a champion or stay one?
"I think once you have proven yourself, that gives you some confidence and we're still working hard to find that confidence all the time," Dahlberg, 33, said. "But we know we have it in us and we strongly believe in what we're doing and I think we have managed a bit of both; we have the drive of coming from behind, but we are starting to get the experience and trust in our process."
Like Mills he is feeling the heat from the challengers. But despite two finishes outside the top there was the ever-present glint of man who's been there and done that in eye of Belcher in the boat part afterwards. The man who won the 2011 World Championships in Perth and 2014 World Championships in Santander fired a perhaps mischievous shot across Swedish bows.
"I think the hardest world championships are always the first one because to get that step and get that confidence takes a long time," he said. "For us, in this position of winning the worlds or not, we've been there so much it doesn't really bother us too much. People deal with that differently, but if you've done it once you can reassure yourself that you can do it again. (Being the target) gives you confidence and we've been in that position for almost a decade."
He acknowledged the rise of the Swedes but hinted in his own inimitably friendly way that the gloves were coming off.
"Certainly the Swedish guys have really picked up quite a lot. We've had some great battles this year - really enjoyable battle," he said. "But no doubt the Japanese contingent with nine boats, which is just insane, are obviously coming along pretty well. We're just focusing on what we need to do. Now, two years in (to the Olympic cycle) we're going to start to ramp up the programme, but we're really happy with where we're at. There are different stages in campaigns and different stages in life as well."
The laser has been even more keenly fought and Australia's Matthew Wearn continues to look like the greatest rival of his compatriot, Tom Burton, the 2016 Rio Olympic champion. After eight races, Wearn, 22, who became European champion this year, leads after two single digit races on a day when many of the top ten registered at least one huge double digit. Burton, 28, is eight points back in fourth. Wearn won the Test Event in the Bay of Aarhus last year against Burton, but this World Championships would be his biggest step towards a changing of the guard.
Laser Radial
The gold fleet only managed one race and the second was abandoned. Danish, Anne-Marie Rindom continues her lead at the top of the leaderboard. Paige Railey (USA) is second, and Sarah Douglas (CAN) is third.
Finn 
Edward Wright (GBR) had a good second race today, finishing second and he holds first place overall. Tom Ramshaw (CAN) in second, and Josh Junior (NZL) follow closely with only one point separating him and Ramshaw.
RS:X Men
The RS:X Men completed three races today with Pawel Tarnowski (POL) topping the leaderboard, and Dorian Van Rijsselberghe (NED) in second place. Italian, Daniele Benedetti is third.
RS:X Women
In the RS:X Women, Yunxiu Lu (CHN) leads overall after day six. Lilian De Geus (NED) is second and Charline Picon (FRA) is third.
Nacra 17
Santiago Lange and Cecilia Carranza Saroli ARG), take charge after a tough couple of races in the Nacra 17 fleet. Brazilian's, Albrecht & Nicolino de Sá shoot up to second and Jason Waterhouse and Lisa Darmanin move up to third.
49erFX
Ida Marie Baad Nielsen and Marie Thusgaard Olsen (DEN) hold first place, and the Dutch, Annemiek Bekkering and Annette Duetz take second overnight. Austrian's Tanja Frank and Lorena Abicht finish the day in third.
49er
There was no racing today for the 49er Men as today was their layday.
They said:
Matthew Wearn – Australia – Laser (leader)
"Good result for myself and pretty solid day. I'm happy to not have a big drop before going into the last day. The first race was a bit marginal due to the conditions. I thought the second race was fantastic."
Sam Meech – New Zealand – Laser
"Today was an absolute nightmare. I think I sailed probably the worst race of my year so far, unfortunately in that first race. It was just bad timing to have it, especially after all the work I have put in this year. It was raceable but only just. 
"Once we are in gold fleet like this you get a bad race you move back in the standings a lot and if you get a good race you move up. I think there's still a lot of racing left to go but it definitely shows how tight the racing in the Laser fleet is."
Akira Takayanagi – Japan – men's 470
"We had a good start in the second race, led at the top mark and controlled the race from there. We're just tired because we were waiting so long. But we wanted that first place (the won the second race of the day)."
Jenna Mai Hansen – Denmark – 49erFX (16th in only race today)
"We didn't have the right start. The wind shifted far left and we had to go port-tack behind the fleet and it shifted so much so we had to go behind everybody. 
That meant we got into a weird rhythm, so they went left, and we went right and when we tacked we missed the shift, and it was tricky to get back up from there.
"We are pleased with our result so far. We are now getting into the finals where it really counts so we are obviously still happy to be very much in the game. I'm sure we'll come back from this. 
"When we never know what's going to happen out there, it's best to just prepare and do what makes you ready. For me, it's just being very relaxed and for Katja it's running for a little while, so she can ready and in the mood. We prepare in different ways but we make sure that we have plenty of food, water and stay out of the sun."
By Matthew Pryor
How to Follow:
ENTRIES
RESULTS
WATCH
SAP SAILING ANALYTICS
SOCIAL MEDIA
NEWS
LIVE ALERTS
ABOUT THE HEMPEL SAILING WORLD CHAMPIONSHIPS AARHUS 2018
Held every four years, the Sailing World Championships is one of the biggest global sailing events in the world and the principal qualification event for the Tokyo 2020 Olympic Sailing Competition.
Hempel Sailing World Championships Aarhus Denmark 2018 will include all 10 Olympic boat classes. Kiteboarding will be added to the programme for the first time. The ambition is to make the championships in Aarhus a unique and spectacular event, where sailing is made more popular and accessible than ever before.
The Championships will be held from 30 July to 12 August 2018 and 1,400 sailors from up to 85 nations will race in up to 1,000 boats.
Held simultaneously with the Sailing World Championships in Aarhus, a large festival will provide opportunities visiting families to get out on the water. The event expects to draw 400,000 visitors to Aarhus.